High-speed/advanced-function FA controller μGPCsH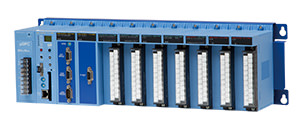 This controller has complete program compatibility with the μGPC Series, features improved communication interface speed, and offers exceptional connectivity with host PCs, touch panels, and other equipment.
Features/functionality
Easy-to-understand μGPC language and rich open networks
The μGPC language employs easy-to-understand ladder symbols and dataflow symbols, enabling unrestricted real-number operations. It also supports open networks, including Ethernet, FL-net (OPCN-2), OPCN-1, PROFIBUS DP, and DeviceNet, making it easy to build a distributed control system.

Web-based remote monitoring
The controller is equipped with web-based monitoring functionality for the status I/O state of PLC via the Internet, making it possible to monitor faults, operation data, and system operation, as well as conduct maintenance, all with a web-based interface. In addition, event-driven data transmission is possible via email.